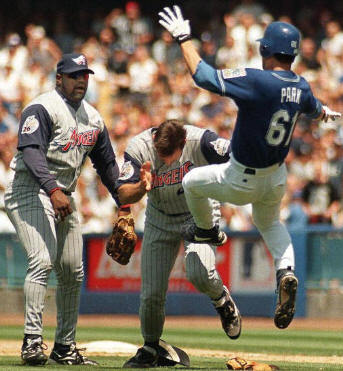 The signing of Chan Ho Park signals a hot race for Spring Training: Fifth starter.
Fifth starter is usually a deposit bin for the mediocre, a place where the 23rd man on every roster seems to hang. Look around the league and see your Edwin Jacksons, your Nate Robertsons. But fifth starter in Philadelphia seems to hold much more promise. All the candidates in the race have curiously strong traits, meaning the spot could really be a golden key for the 2009 Phils.
Chan Ho Park
The most experienced of the candidates, he's coming off a solid 4-4, 3.40 season for the Dodgers. He started five games last year, and reports say he'll be given a chance to do it again. With newfound velocity on his fastball, Park could be a fresh alternative from the slow-pitch Jamie Moyer.
JA Happ
Probably holding the inside track, the Phils rookie southpaw finished strong during the playoff race, even getting a chance to remain on the playoff roster. While his addition would mean three lefties in the rotation, he definitely has the stuff to survive a full season. If he doesn't, however, a midseason trade could be in the cards.
Kyle Kendrick
The right-handed side of Happ had a chance to secure his rotation spot for a long time, but struggled mightily in 2008. Still, he seems to keep the Phils in his games, shown by his 11-9 record in 2008. Supposedly he had major head problems last season; hopefully that goes by the wayside and he can concentrate on getting outs.
Carlos Carrasco
The hotshot prospect is only 21, mind you, but will be ready to play on the major league team in 2009. The Phils might rather give him a few weeks in Lehigh Valley, but with a strong showing in Clearwater, anything can happen.
Andrew Carpenter
A dark horse in a way, Carpenter enjoyed a cup of coffee with the Phils during his rollercoaster 2008. He'll get his chance in Spring Training, but I don't really expect him to overtake the others.
Add in Adam Eaton, who might try to prove everyone completely wrong, and you have a promising battle between six pitchers. This could be the hottest position battle in 2009 — actually, it might be the only position battle. Focus in on it.